Posted by Cory List on 13th Sep 2014
When you have a website and this page functions as an online shop for your business, you need this page to perform accordingly. You need it be serve your clients, in a straightforward fashion, so it needs to have a gallery that will showcase your products and it should come with an easy checkout or paying system. Online shops are popular for the unique convenience it offers. People choose to shop online because it is cheaper, faster and easier to do.
The most important section of any online shop and yours, for that matter, would be the pay page. After a customer has chosen what they want to get, they should be able to quickly make the purchase with a safe and secure payment system.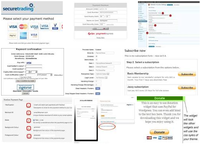 There are a number of options that you can try for this. What you pick, will depend on the specific features you need:
iFrame: iFrame programs could be installed into your page to facilitate payment transactions that clients make on your website. It is quite easy to install and for a customer, it is quite easy to use.
Cardsave: This is a simple pay page software that you can install into your website so that you can accept credit card payments. It is easy, secure and offers fairly competitive transaction processing rates.
Paypal: Probably the most generic solution to take when you are setting up an online store, Paypal is good because you can maintain it for personal and business use. Paypal is easy to apply to your website and does the job well, so you can run your business smoothly and rest assured that transaction between customers and yourself are flowing through a secure channel.
There are other programs and software you can use. They more or less function the same way, with a little difference here and there, the only way to really determine perfectness of fit will be to try it out.